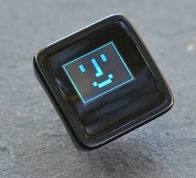 Whilst browsing Kickstarter we came across these MicroView Ardunio's which is an Arduino with a built-in OLED Display; as well as providing downloadable libraries for quickly displaying text, sprites, graphs and gauges on the OLED.
The Microview has already reached it's pledge goal with 27 days remaining (at the time of writing this post)
We think it's a really unique idea and it would be pretty fun to have one of these if you have a small project in mind that requires some sort of visual display.
From the Kickstarter page; Geek Ammo describe it as the following:
You've never seen an Arduino™ compatible like this. With a built-in OLED (Organic Light Emitting Diode Display) you can see what your Arduino is thinking without having to connect it to your computer.

No more cryptic "Hello World" LED blink sequences or shoehorning oversized displays onto your tiny Arduino™. Development is much easier when you can see what's going on.
The specifications for this device can be found below:
GENERAL SPECS
Support for the Arduino™ IDE 1.0+ (OSX/Win/Linux)
100% Arduino™ Compatible
Built-in 64×48 OLED display
Direct 3.3VDC – 16VDC power input, no power regulator needed
Standard DIP Package
Breadboard friendly or direct solder
HARDWARE SPECS
Display: 64×48 OLED Display
Microcontroller: ATmega328P
Operating Voltage: 5V
Input Voltage: 3.3VDC – 16VDC
Digital I/O Pins: 12 (of which 3 provide PWM output)
Analog Input Pins: 6
Flash Memory: 32 KB
SRAM: 2 KB
EEPROM: 1 Kilobyte
Clock Speed: 16 Mhz
No other components required
The first thing that stands out is that the OLED display is of a good resolution for it's size; as well as having an ATmega328P so all of your current Arduino projects are compatible with this device. There is also 3.3 – 16v input on this tiny thing!
We have opted for the Microview + USB Serial Programmer at $55 including Worldwide shipping. We'll certainly be posting up a review of this device as well as some tutorials on how to get started with the OLED.